Dabbling in delicious
Roasted chicken stuffed with smoky pesto rosso
Take a little pinch of this and a little sprinkle of that, pluck a large dollop of inspiration from the Middle East and Spain and brush with a fleeting nod to the Spice Islands .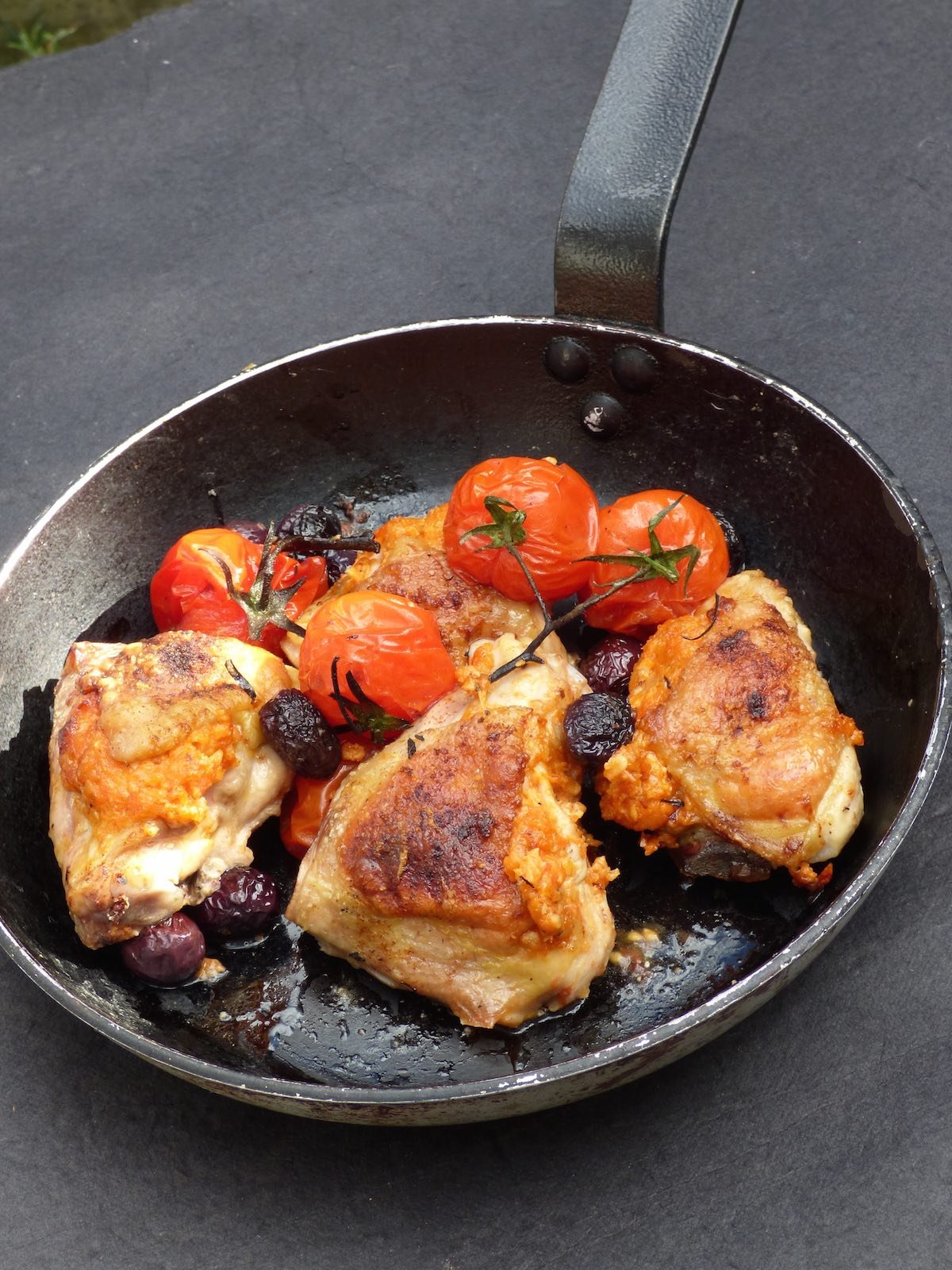 Photography and styling by Hedi Lampert Kemper
Recipes by Judy Badenhorst and Hedi Lampert Kemper
Production by Judy Badenhorst and Alison Bodenstein
Possibly the best chicken you'll ever taste thanks to the utterly addictive smoky sweet pesto.
Serves 4
Ingredients
Chicken thighs, skins left on 8
Olive oil 1 Tbs
Salt coarsely ground, around 1 tsp (season to your taste)
Spanish smoked paprika 1 tsp
Cherry or Rosa tomatoes 4 trusses
Black olives 1/2 cup
Pesto rosso
Rosa tomatoes 1 cup
Red peppers 2 large
Raw cashew nuts ½ cup
Pecorino cheese ½ cup grated
Olive oil ¼ cup plus 1 Tbs
Red chilli 1 small
Garlic 1 clove
Sugar 1 tsp
Salt ½ tsp
Spanish smoked paprika ½ tsp
Method
Set oven to 200 degrees C. Line a baking tray with a sheet of baking parchment. Slice the red peppers vertically, discard seeds, and place skin side up on the baking parchment along with the Rosa tomatoes. Drizzle peppers and tomatoes with 1 Tbs olive oil and bake in the oven until the skins of both begin to blister. Remove from the oven, place the peppers in a plastic bag and leave to sweat until skin peels off easily. Place the skinned pepper flesh along with the roasted tomatoes and all the other pesto ingredients in a blender and whizz until a thick paste is formed. Add more salt and paprika if desired.
Reduce oven to 180degrees C.
Gently lifting the skins off each thigh portion, beginning in the centre, so the edges are still attached to the meat, stuff a heaped teaspoonful of pesto under the skin or each thigh portion. Place thighs in an oven-proof dish, brush each one with olive oil, sprinkle a little coarse sea salt over each and dust with Spanish smoked Paprika. Bake in oven until skin is golden brown and crisp and meat is cooked through, around 45 minutes depending on your oven. About 10 to 15 minutes before you remove the chicken from the oven, place tomato trusses and black olives into the dish and continue roasting. Serve straight from the oven with extra pesto on the side.